When people have been marked as being archived in Church360° Members, their person record is moved to the Archived View. The archived view allows you to view these people's records, however, data cannot be edited within the archived view.
To access the Archived view, from People Individuals screen, select the "Archived" option from the box where you select what Smart Group or tag you want to view. This will take you in to the archived view. Then, you can click on the name of any person in the Archived view to view their record.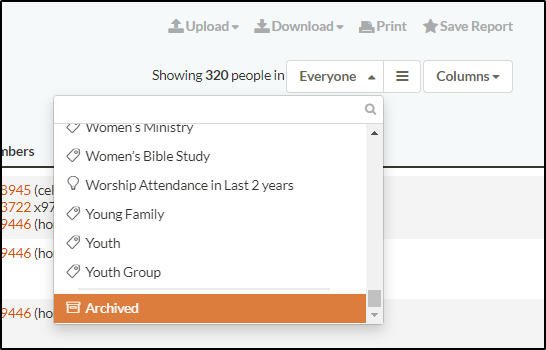 In an archived person record, you have two options. If you want to restore this person back to the regular part of Church360 Members, click the "Unarchive this person" button in the bottom left corner of the screen.
You can also permanently delete a person record if you click the Delete this person button. If you do this, you will be asked to type in the person's name to confirm their deletion. A deleted person cannot be brought back once deleted, so consider this carefully before deleting. If a person requests to be completely deleted from your site, this option can be utilized to stay in compliance with GDPR, which is a set of EU Privacy standards.
It is our recommendation, however, unless you are removing duplicate person records, that you do not delete person records, because if you need to pull a person's information for any reason, if that record has been deleted, it cannot be retrieved.